When thinking about how to manage your office IT, you have a few different choices. You could go DIY. But eventually you get big enough that you don't want to spend time fixing computers. Setting up a company's data security systems, for instance, is a big job for just one or two people.
That leaves you with a some other options. You can have an in-house IT department, pay IT consultants as you need them, or enlist a "managed services" IT company.
Let's say you have a person or two who manages IT in the office. (And by the way, we have services to help out internal IT teams!) But you want to expand capacity by going external. How do most IT companies operate?
Some IT companies are national or global, while others stay local. Our IT services company, for instance, focuses mostly on Toronto and the GTHA. Some companies are hourly consultants, while some are "managed service providers."
What are managed service providers?
Managed services mean that a single IT firm anticipates and takes care of all your IT needs. We take it one step further and make it "IT-as-a-service." We are a managed service provider, but we also bundle everything into one monthly price.
Check out our chart below that explains who is on the hook for IT products and services, depending on the IT company.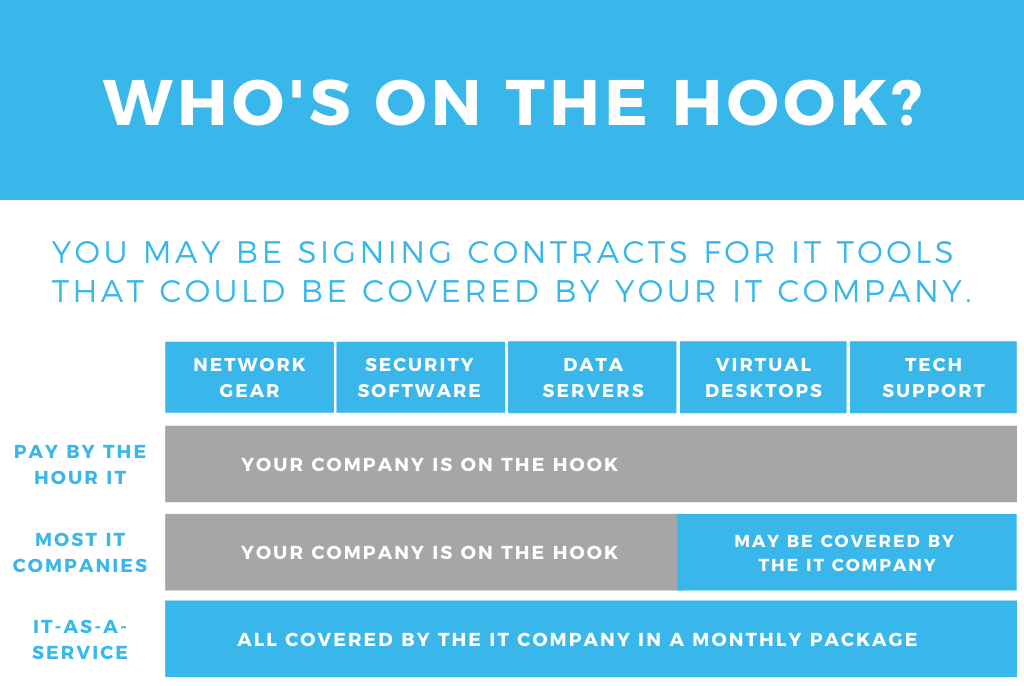 For history and technology buffs, we've written about the history of IT support. IT services have changed a lot from the early days of the 1980s to the fast-paced world of technology today.
We hope you've learned a bit more about the term "managed services" and how IT companies can best support your office.