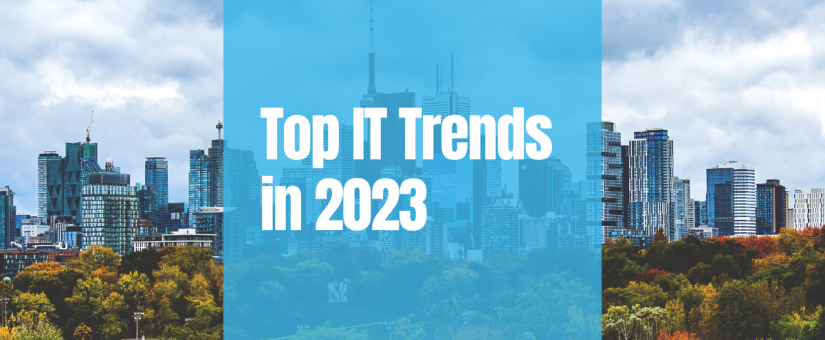 Posted by Colin Pearce
On January 5, 2023
These are my thoughts on the top IT trends in 2023, and what clients can expect from IT companies.
We discuss at length what to look for in our 2023 IT Services Buyer's Guide. Check it out for information about costs, details on IT services and products, how to find an IT company, and questions to ask any IT company.

More cyber security requirements
I expect to see an increased focus on cyber security for offices to maintain insurability. The core requirements will be multi-factor authentication on all systems, accountability for systems, Incident Response Plans. There will be more systems consolidation (properly removing software that doesn't need to be there), a move towards password-less authentication, and third-party proactive security scans as a requirement for insurability. We'll see a continued focus on flat rate cyber security pricing options from IT companies. The "break-fix" (reactive only) model will decline.

Improved document management and digitization
I will be looking out for data aggregation with focus on optical character recognition (OCR) and searchable data within document management systems, which will make it easier for offices to digitize physical documents. I also expect to see more AI and machine learning algorithms helping us with repetitive work.

IT industry moving to "IT-as-a-service"
The IT industry will continue moving to flat rate pricing, with a focus on fully managed services across the board. This means ongoing, proactive maintenance and upkeep of all systems including private cloud servers. Rather than sticking only to routers, servers and other hardware, however, IT service providers will offer a more comprehensive layer of support. This will include more "business in a box" solutions such as document management systems, training, communications, and operations support. I also expect to see more client industry specialization among IT service providers, as IT companies become more knowledgeable about the work of our clients.
An IT and business expert, Colin has provided support and advisory services to hundreds of businesses across Ontario and Canada. In 2017 he created a simpler and more affordable tech support and virtual desktop system that includes almost all required IT infrastructure. He enjoys figuring out how to make business technology work best for each unique situation.