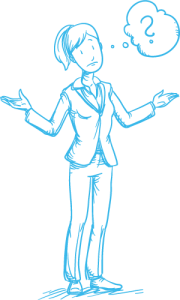 "Have you tried turning it off and on again?"
If you're looking for tech support services for your workplace in Toronto, Hamilton, or another Ontario city, you've come to the right place.
Sometimes "turning it off and on again" (a famous line from the British TV series The IT Crowd) works like a charm, but often the solution to your problem is much more complicated than that.
Even if you are tech-savvy, as your work team grows your IT systems can become complicated and unwieldy. You most likely don't have the time to troubleshoot dozens of software suppliers or work directly with data centres. Most businesses and non-profits need an IT partner to call with technology issues and questions, so you can focus on your bread and butter.
Our monthly package includes tech support. All clients have our local help desk phone line and email address and we adhere to strict timelines for addressing issues – big or small!
Our customer service approach
Technology folks can have a reputation for being unapproachable. We're a family-run business, and we want every day to be a good day, for us and for our clients.
Good customer service is extremely important to us. We put a lot of time and care into creating a culture of respect and healthy communication with our clients. All tech support is done by our local Toronto and Hamilton teams.
Contact us anytime and our founder Colin would be happy to answer your questions about our tech support system.