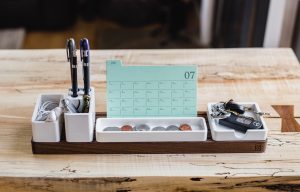 We replace your data servers with the Cloud Office, and we include it in your IT support services
We can't promise offices can all look like they were tidied by Marie Kondo. But we guarantee workplaces have more space without in-house data servers.
Most offices no longer need to buy physical in-house data servers from their IT support company. Instead, we put your work on the Cloud Office system. Our servers house and process your data from a secure Canadian data centre. This means that your physical computers have less processing work to do, and you will not need to replace them as often. Conveniently, the Cloud Office also allows you to safely log in to your work computer from any device. Finally, the cost savings: you won't be surprised by a big bill for server upgrades every few years.
However, it is possible you have massive files that must stay on premise (say, if you produce video). If so, we can tailor a tech support package to support you. Contact us anytime and our founder Colin would be happy to answer your questions about whether the Cloud Office is the right fit for you.
IT support only
Monthly per user
$155
IT support from our Toronto and Hamilton teams
For offices without a private cloud hosting environment
Your file server hosted in the cloud (usually $10,000-$20,000 every few years)
Cloud Office – cloud-hosted work computers (usually $80/user/month)
Multi-factor authentication
Contact us
Inderly Cloud Office
Monthly per user ($1,090 monthly minimum)
$195
IT support and hardware included
Your office IT support and virtual desktops. INCLUDES:
Contact us
Cloud Office on Azure
Monthly per user
$280
IT support and hardware included
For offices with compliance requirements
Cloud-hosted work computers on Microsoft Azure (usually $170/user/month)
Contact us