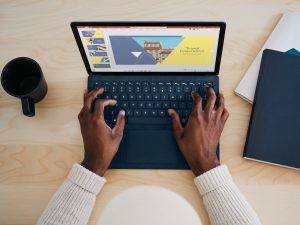 Affordable, fully managed cloud services included in your monthly IT package
What are cloud services?
"The cloud" is the delivery of services over the internet. It means:
Accessing your software online rather than from a server in your office.
Putting your office file servers and work computers entirely on the cloud, so you work from virtual desktops with built-in remote access (easily work from anywhere).
About the Cloud Office
We take care of all cloud services for our clients. In 2017 we launched the Cloud Office, a private cloud system whose servers live in a highly secure Canadian data centre. From there, our clients have access to their exclusively allocated cloud space.
Advantages for clients include lower computing costs, higher speeds, and top security standards. Plus, in the age of flexible work hours and spaces, the Cloud Office makes it easy to log in to your work computer on any device.
We use the Cloud Office ourselves for all internal work at Inderly. Once, our founder forgot his usual work laptop at home when travelling 50 kms away to visit a client. Thanks to the Cloud Office, he knew he could grab any spare computer or laptop, simply log on, and get to work.
Cost savings
With no servers in your office, the Cloud Office saves you, on average, 20% on your IT budget.
If you are currently paying bit by bit for everything plus expensive servers every few years, check out our Cloud Office monthly package. It includes everything for one comprehensive monthly price, with no unexpected hardware costs.
IT support only
Monthly per user
$155
IT support from our Toronto and Hamilton teams
For offices without a private cloud hosting environment
Your file server hosted in the cloud (usually $10,000-$20,000 every few years)
Cloud Office – cloud-hosted work computers (usually $80/user/month)
Multi-factor authentication
Contact us
Inderly Cloud Office
Monthly per user ($1,090 monthly minimum)
$195
IT support and hardware included
Your office IT support and virtual desktops. INCLUDES:
Contact us
Cloud Office on Azure
Monthly per user
$280
IT support and hardware included
For offices with compliance requirements
Cloud-hosted work computers on Microsoft Azure (usually $170/user/month)
Contact us