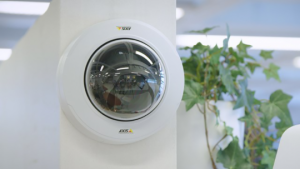 Security cameras for offices in Toronto, Hamilton, and across Ontario
Are you looking at options for office security cameras? If you are an Inderly client, we can source and install cameras for you. Even if you're not a current client, feel free to contact us and we can point you in the right direction.
If you are looking for cabling or wiring work for cameras or other network systems in your office, we provide data cabling services for businesses and non-profits in Toronto, Hamilton, and across Ontario.
Security cameras can show us helpful information. Thankfully, gone are the days of grainy footage. We can see and record a lot more. Camera technology is always improving. We use Axis cameras and Milestone XProtect software for high quality, yet affordable systems.
Every workplace is different, so we design and manage camera systems based on client needs. If you're looking for both IT support services and a great security camera set-up, you've come to the right place.
Please note: we only do camera systems for our monthly clients subscribed to our IT support services. However, not everyone needs a camera system, so the price is not included in our monthly package. Contact us for a quote.