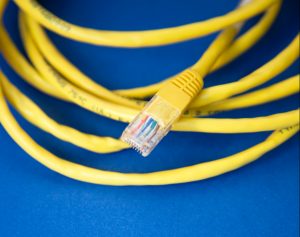 Office cabling and wiring services in Toronto, Hamilton, and across Ontario
If you're moving, expanding, renovating, or adding new equipment to your office, you likely need cabling and wiring services.
Data cabling means setting up physical wires in your office. The wires connect computers to your office network (network cabling) and internet (Ethernet cabling). Computers work best with proper cabling. And other devices such as printers, phones, wireless access points, and security cameras usually require data cabling.
When shopping for cabling and wiring services, look for partners that use high quality materials and understand fire codes. This is important because Ontario has relatively lax regulations for cabling and does not require certification. But improperly installed data cabling can result in a failed building inspection. In turn, this can lead to delays and costs that vastly exceed the original cost of the cabling itself.
We offer data cabling and wiring services for offices in Toronto, Hamilton, and across Ontario. This is a project that we can do for either new clients or existing client on our regular monthly package for IT support services.
Pricing varies by difficulty and scope of the job, but generally ranges from $100-$300 per wire/connection.
For a quote, or if you are looking to become an Inderly client for all IT support services, please contact us.