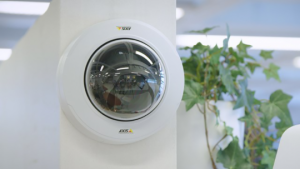 Security cameras for workplaces in Toronto and the GTA
Security cameras can show us helpful information. Thankfully, gone are the days of grainy footage. We can see and record a lot more. Camera technology is always improving. We use Axis cameras and Milestone XProtect software for high quality, yet affordable systems.
Every workplace is different, so we design and manage camera systems based on client needs. If you're looking for both IT support services and a great security camera set-up, you've come to the right place.
Please note: we only do camera systems for our monthly clients. However, not everyone needs a camera system, so the price is not included in our monthly package. Contact us for a quote, and feel free to take a look at our other services below.
Our monthly price includes all IT support services
You are likely currently paying bit by bit for everything you need with big jumps in cost every few years for servers.
With us, you pay monthly with no unexpected hardware costs.
For Toronto-area businesses and non-profits looking for IT support services, we ask you to tally up your expenses carefully when you are comparing quotes. You might be surprised to find our overall price sits somewhere in the middle range.
$160/user/month INCLUDES the following costs you'd usually have on top: